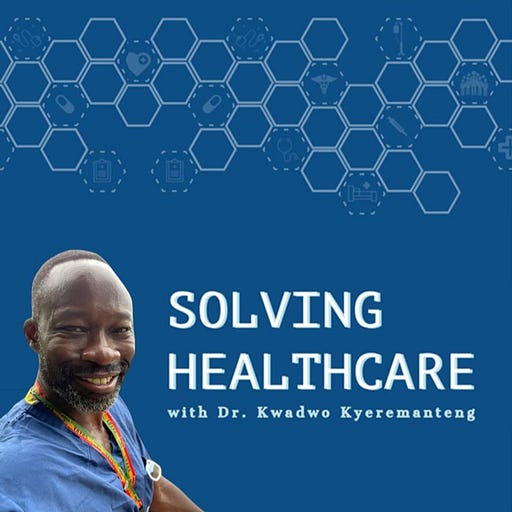 Nov 29, 2022 • 57M
Healing An Injured Society, One Person at a Time, with Meghan Telpner
Solving Healthcare is a podcast series launched in September 2019 by the Resource Optimization Network. Led by Dr. Kwadwo Kyeremanteng, a palliative care & intensive care doctor based in Ottawa, these podcasts will feature interviews and discussions on the topic of improving healthcare delivery in Canada. Underpinned by the values of cost-effectiveness, dignity, and justice, these podcasts will challenge the status quo, leaving no stone unturned as we explore gaps, assumptions, and different perspectives in the pursuit of finding solutions to problems in Canada's healthcare system Note, views expressed belong to the host only.
In this episode, we welcome Toronto-based author, nutritionist, and founder of the Academy of Culinary Nutrition, Meghan Telpner. Today we talk with Meghan about everything from breathing techniques to meditation, embodying compassion, focusing your mind, pumpkin spice and more!
Episode Notes
SOLVINGWELLNESS: An amazing wellness platform for healthcare professionals
SOLVINGWELLNESS.COM or facebook.com/groups/solvingwellness
KEYNOTE SPEAKING
solvinghealthcare.ca or kwadcast99@gmail.com
BETTERHELP
BetterHelp is the largest online counselling platform worldwide. They change the way people get help with facing life's challenges by providing convenient, discreet and affordable access to a licensed therapist. BetterHelp makes professional counselling available anytime, anywhere, through a computer, tablet or smartphone.
Sign up today: http://betterhelp.com/solvinghealthcare and use Discount code "solvinghealthcare"
Solving Healthcare Seminars & Merchandise.
The full conference can be purchased for $9.99 at solvinghealthcare.ca/shop
Department of Medicine site: https://ottawadom.ca/solving-healthcare
Resource Optimization Network website: www.resourceoptimizationnetwork.com/
Follow us on twitter, TikTok & Instagram: @Kwadcast
Like our Facebook page:
https://www.facebook.com/kwadcast/
YouTube:
https://www.youtube.com/channel/UCLmdmYzLnJeAFPufDy1ti8w